News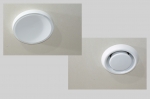 A simple method for regulating the airflow rate?

16.03.2021
Disc valves give you the option of easily regulating the amount of air using an adjustable central disc.
The aerodynamic shape of the valve reduces the noise made by the supplied/vented air. These valves are suitable for installation in offices, bathrooms, kitchens, and rooms in family homes.
We offer 2 versions:
- plastic disc air exhaust valve
- plastic disc air supply and exhaust valve
Contact
MATEICIUC a.s. - VAT: CZ60792825; written in the CR at the Regional Court in Ostrava, odd. B 987 Entry
News