KLIMAFLEX SB flexible plastic ducts
KLIMAFLEX SB flexible plastic ducts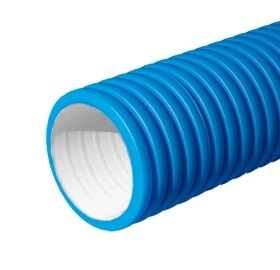 KLIMAFLEX SB flexible plastic ducts
Flexible plastic ducts are designed for air ducts, air-distribution equipment and heat recovery systems.
perfect transport of air and low pressure losses
the inner walls of the ducts are treated with a protective antibacterial and antifungal coating
the ends of the rolls are fitted with caps to prevent dirt from getting into the ducts
the components and layout of mechanical air distribution are important because they can improve both the comfort of occupied spaces and reduce energy use
ducts provide the pathways for air
Material
outer wall - made from PE
inner wall -  made from PE + antibacterial and antifungal additive
Ducts colours
outer wall - blue or green
inner wall - white
code

outer
diameter
inner
diameter
bend
radius
roll
length
 
mm
mm
m
 m
KF/63/MB-SB
63
51
0,26
50
KF/75/MB-SB
75
61
0,29
50
KF/90/MB-SB
90
75
0,33
50
-
160*
136
0,43
25
-
200*
171
0,50
25
* Production on order (delivery time and quantity to be agreed)
Temperature resistance
installation temperature: of -5ºC to + 50ºC
operation temperature: of -20ºC to +50ºC
storage temperature: of -40ºC to +60ºC
Storage
rolls must be stored in a horizontal position
only for the shortest time necessary, maximum 3 months
the ducts must be kept out of direct sunlight
Transport
when loading and unloading the pipes it is essential to prevent any mechanical damage or distortion of the plastic ducts
Designed
the ducts are designed in accordance with ČSN EN 17192. They are tested pursuant to ČSN EN ISO 846:98, methods A, C.
Installation of flexible air-ducts KLIMAFLEX SB