DUOFLEX, DUOHARD protective pipes
DUOFLEX, DUOHARD protective pipes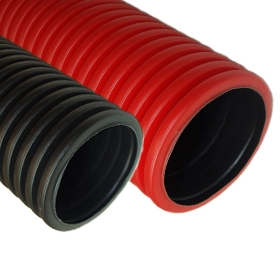 DUOFLEX, DUOHARD protective pipes
Double-walled protective pipes  (also called "corrugated pipes or "cable protection sleeves") are intended, primarlly, for mechanical protection of cables laid in excavations and cable trenches.
Generally, they are used for difficult section of cable routes such as, water courses, railway, crossing, motorways. 
The pipes provide additional protection of water and gas supply lines, drainage or sloped sewers.
Material            
DUOHARD - outer and inner walls are made of PE-HD.
DUOFLEX - outer walls are made of PE-HD, inner wall are made of PE-LD (for diameters of 40, 50 and 63 mm) and of PE-HD (for diameters from 75 mm).
Pipe design
outer wall - corrugated for higher mechanical strength of the pip.
inner wall - smooth for easy cable installation. Slight corrugation provides for excellent flexibility, does not reduce passage capacity through the pipe in bends and maintains high strength.
Colour design
outer wall - red, black or blue (standard colours)
inner wall - black (standard)
---
outer
diameter
inner
diameter
DUOFLEX
DUOHARD
standard
production
length (coils)
bend
radius
 standard
production
of rods
pallets
length
mm
mm
m
m
 m
m
40
32
50
0,20
-
-
50
40
50
0,23
-
-
63
51
50
0,26
-
-
75
61
50
0,29
6
552
90
75
50
0,33
6
600
110
94
50
0,37
6
456
125
105
50
0,40
6
408
160
136
50
0,43
6
168
200
171
25
0,50
6
162
Heat resistance
installation temperature: dandling PE-HD pipes within of -5ºC to + 50ºC
operation temperature: of -40ºC to +70ºC
Pipe connection
the pipes are connected using slide-on couplings
pipes of both production lengths are delivered with a coupling on one end
Drawing element and cable introduction
DUOFLEX protective pipes in coils have pre-installed drawing elements (PV-PAD, thickness 1,2 mm or PP string 12 500 dtex)
cables must be introduced into DUOFLEX and DUOHARD pipes via drawing (blowing-in not possible). Smooth inner walls provide for easy cable introduction into the pipe.
Storage
in horizontal position, maximum storage height 2 m
max storage time up to 3 months
it is not recommended to store in direct sunlight (to DN 160 does not contain UV stabilizer)
Pipe laying
in order to maintain maximum mechanical strength of DUOFLEX and DUOHARD protective pipes observe installation instructions issued by MATEICIUC a.s.