DUOFLEX, DUOHARD protective pipes
DUOFLEX, DUOHARD protective pipes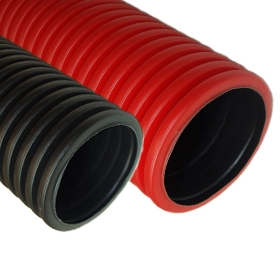 DUOFLEX, DUOHARD protective pipes
Double-walled protective pipes  (also called "corrugated pipes or "cable protection sleeves") are intended, primarlly, for mechanical protection of cables laid in excavations and cable trenches.
Generally, they are used for difficult section of cable routes such as, water courses, railway crossing, motorways. 
The pipes provide additional protection of water and gas supply lines, drainage or sloped sewers.
Material            
DUOHARD - outer and inner walls are made of HDPE
DUOFLEX - outer walls are made of HDPE, inner wall are made of LDPE+MDPE (for diameters of 40, 50 and 63 mm) or of HDPE (for diameters of 75 and 90 mm), or HDPE (for diameters from 110 mm)
Design
outer wall - corrugated for higher mechanical strength of the pip
inner wall - smooth (slight corrugation provides for excellent flexibility, does not reduce passage capacity through the pipe in bends and maintains high strength)
Colour
outer wall - red, black or blue (standard colours)
inner wall - black (standard)
---
outer 
diameter
inner 
diameter
DUOFLEX
DUOHARD
length 
coil
bend 
radius
pallets
length
 length 
rod
pallets
length
mm
mm
m
m
m
 m
m
40
32
50
0,20
1200
-
-
50
40
50
0,23
400
-
-
63
51
50
0,26
-
-
-
75
61
50
0,29
350
-
-
90
75
50
0,33
300
-
-
110
94
50
0,37
200
6
456
125
105
50
0,40
-
6
408
160
136
50
0,43
-
6
168
200
171
25
0,50
-
6
162
Heat resistance
handling temperature: of -5 ºC to + 50 ºC
operation temperature: of -40 ºC to +70 ºC
storage temperature: of -40 ºC to +60 ºC
Pipe connection
Drawing element and cable introduction
DUOFLEX protective pipes in coils (25, 50 m) have preinstalled drawing elements (PV-PAD, thickness 1,2 mm or PP string 12 500 dtex)
cables must be introduced into DUOFLEX and DUOHARD pipes via drawing (blowing-in not possible)
smooth inner walls provide for easy cable introduction into the pipe
Storage
coil be stored in horizontal position, maximum storage height 2,8 m
max. storage time up to 3 months
it is not recommended to store in direct sunlight (DN 40, 50, 63, 75 and 110 does not contain UV stabilizer. DN 90, 125, 160 and 200 contain UV stabilizer)
ambient conditions must comply with ETS 300 019-1-1, class 1.3E
Laying
observe relevant laws and technical standards when laying protective pipes for power and communication cables
in order to maintain maximum mechanical strength of DUOFLEX and DUOHARD protective pipes observe installation instructions issued by MATEICIUC a.s.
avoid too small bending radius and excessive force when installing connection and fitting devices and observe maximum allowed load
use appropriate protection of pipe ends when laying into soil in order to prevent dirt inside the pipe which could damage the cable
after introduction of the cable into the pipe seal both ends to prevent dirt from coming into the pipe
seal the ends of redundant pipe (if installed)