News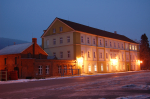 Company-wide winter holiday 2022/2023

01.12.2022
during the period from 16 December 2022 to 8 January 2023.
The last day we can accept orders is 13 December 2022.
Dear Business Partners, we would like to inform you of the dates of the company-wide winter holiday, which will take place at the MATEICIUC a.s.

Thank you for understanding.
Contact
MATEICIUC a.s. - VAT: CZ60792825; written in the CR at the Regional Court in Ostrava, odd. B 987 Entry
News