News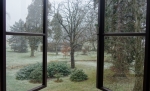 A view of the company garden on 6 January 2021

06.01.2021
The Christmas period has ended, but that doesn't seem to be the case when you take a look outside …
We hope you are rested and fully recharged for 2021. We would like to inform you that we have commenced manufacturing and selling our products.
We look forward to our partnership with you in the New Year.
Contact
MATEICIUC a.s. - VAT: CZ60792825; written in the CR at the Regional Court in Ostrava, odd. B 987 Entry
News