News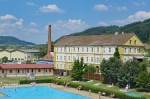 Company holiday 2020

23.06.2020
The period from 27th July to 7th August 2020.
Dear customers and business partners, on 27th July to 7th August 2020 inclusive, the MATEICIUC company will be closed due to company holiday. During that time the goods' expedition will also be closed, and therefore no goods can be dispatched.
Thank you for your understanding. We wish you nice summer days, pleasant vacation and we look forward to our further cooperation.
Contact
MATEICIUC a.s. - VAT: CZ60792825; written in the CR at the Regional Court in Ostrava, odd. B 987 Entry
News