News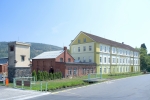 We are continuing our production and sales activities!

17.03.2020
Persons who do not work for the MATEICIUC a.s. Company are prohibited from entering the complex until stated otherwise. Please use the contact information given here for communication with the competent persons.
The following information applies to drivers who are delivering or collecting goods:
1. When driving your vehicle into the company's complex, the body temperature of the vehicle's crew will be taken using a contactless thermometer. In the event that evident symptoms of fever, cough, respiratory or similar difficulties are ascertained you will not be permitted to enter the company's complex.
2. When loading and unloading goods the crew must remain inside the vehicle, with the exception of essential brief activity for the purpose of enabling loading/unloading of goods and personal contact with company employees when handing over/taking receipt of documents.
3. The vehicle crew must use their own protective masks and gloves if they are forced to exit the vehicle.
4. The vehicle crew are forbidden from coming into contact with other company employees or entering company buildings, with the exception of the designated area with sanitary facilities.
We realise that with regard to the nature of the new coronavirus it is not possible to completely eliminate the risk of infection despite the implemented measures, however we request your maximum cooperation in order to prevent the possibility of infection to the greatest extent possible.
Thank you for your cooperation.
Contact
MATEICIUC a.s. - VAT: CZ60792825; written in the CR at the Regional Court in Ostrava, odd. B 987 Entry
News