News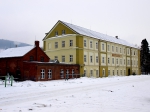 Company closing during Christmas

05.12.2019
Christmas closing from 17th December 2019 to 8th January 2020.

Dear Customers, Christmas is coming and therefore we would like to inform you that MATEICIUC a.s. will be closed between 17.12.2019 – 8.1. 2020. 
Last day of order acceptance 13.12.2019.
Thank you for your understanding. We wish you quiet and relaxed days before Christmas.
Contact
MATEICIUC a.s. - VAT: CZ60792825; written in the CR at the Regional Court in Ostrava, odd. B 987 Entry
News