News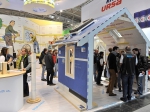 BAU introduced new products

07.02.2017
From 16th to 21st January 2017 BAU was held in Munich, Germany, exhibition with a tradition since 1964.
BAU is a leader among construction fairs. On the area of 185,000 square meters there are present the latest building materials and systems.This year there were 2,120 exhibitors, of which 19 companies from Czech Republic.
BAU is a meeting place not only for the manufactures themselves, but also for architects and designers. New products introduced there determining the future trends in the construction industry. The fair is held every two years, next one is planned in Munich for January 2019.
Contact
MATEICIUC a.s. - VAT: CZ60792825; written in the CR at the Regional Court in Ostrava, odd. B 987 Entry
News