News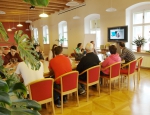 We train students

24.01.2017
In cooperation with the Secondary Technical School in Hranice our company was visited again by students specializing in construction materials.
>In autumn they familiarize themselves with the production and testing of plastics in our testing laboratory and during this second visit they completed the course Plastics' Minimum. Technologist Martin Malínek presented to the students, who will graduate this year, about classification of plastics, their composition, structure, properties, and also showed them different type of processing used in the MATEICIUC a.s. Students in the 4th class appreciated the excursion and training.
We can only hope that the knowledge they acquired will help them during graduation tests.
Contact
MATEICIUC a.s. - VAT: CZ60792825; written in the CR at the Regional Court in Ostrava, odd. B 987 Entry
News