News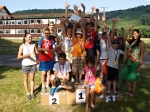 Children's Day in the spirit of the Rio de Janeiro Olympic Games

28.06.2016
Afternoon full of games and fun competitions for parents - it was Children's Day in the company park.
Moms competed for the best summer refreshment and children were looking for treasure,  played weight-lifting, football, basketball, golf, jumped rope, competed in terrain relay race but also solved tricky quiz about Brazil.
Children tried their best and always in the spirit of the fair play and therefore all of them deserved a gold medal, a diploma and a small gift.
Contact
MATEICIUC a.s. - VAT: CZ60792825; written in the CR at the Regional Court in Ostrava, odd. B 987 Entry
News