News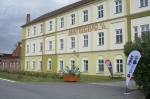 MATEICIUC Open Day

07.10.2015
Looking back at the MATEICIUC Open Day, to mark the 25th anniversary of the company.For visitors were made accessible premises that are not normally accessible.

It was not just about the interior of the company, interesting historical elements and rooms, but also the production in real operation.

Tour with commentary was finished in the company's pavilion "Sebastian" by little refreshment and a gift in the form of a commemorative coin. Who did not visit us can enjoying at least the photographs.
Contact
MATEICIUC a.s. - VAT: CZ60792825; written in the CR at the Regional Court in Ostrava, odd. B 987 Entry
News